MPI Insights Dublin 2023
Technical Production | Video | Design | AV Services
MPI UK & Ireland Design & Production Partner
Following the success of the 2022 event, AVCOM was appointed as the lead Production and Design Partner for MPI UK & Ireland's flagship annual event, and the first-ever Insights event to be held in Dublin. The team worked in seamless collaboration with key partners including MPI, Meet in Ireland, Dublin Convention Bureau and Fáilte Ireland to bring this awe-inspiring event to life.  
The theme of this event was "Impact" and AVCOM's highly-trained Ninjas delivered cutting-edge design and comprehensive production services that pushed the boundaries and left a lasting impression. Find out how our design-led ethos enabled MPI's vision to come to life and resonate deeply with their audience.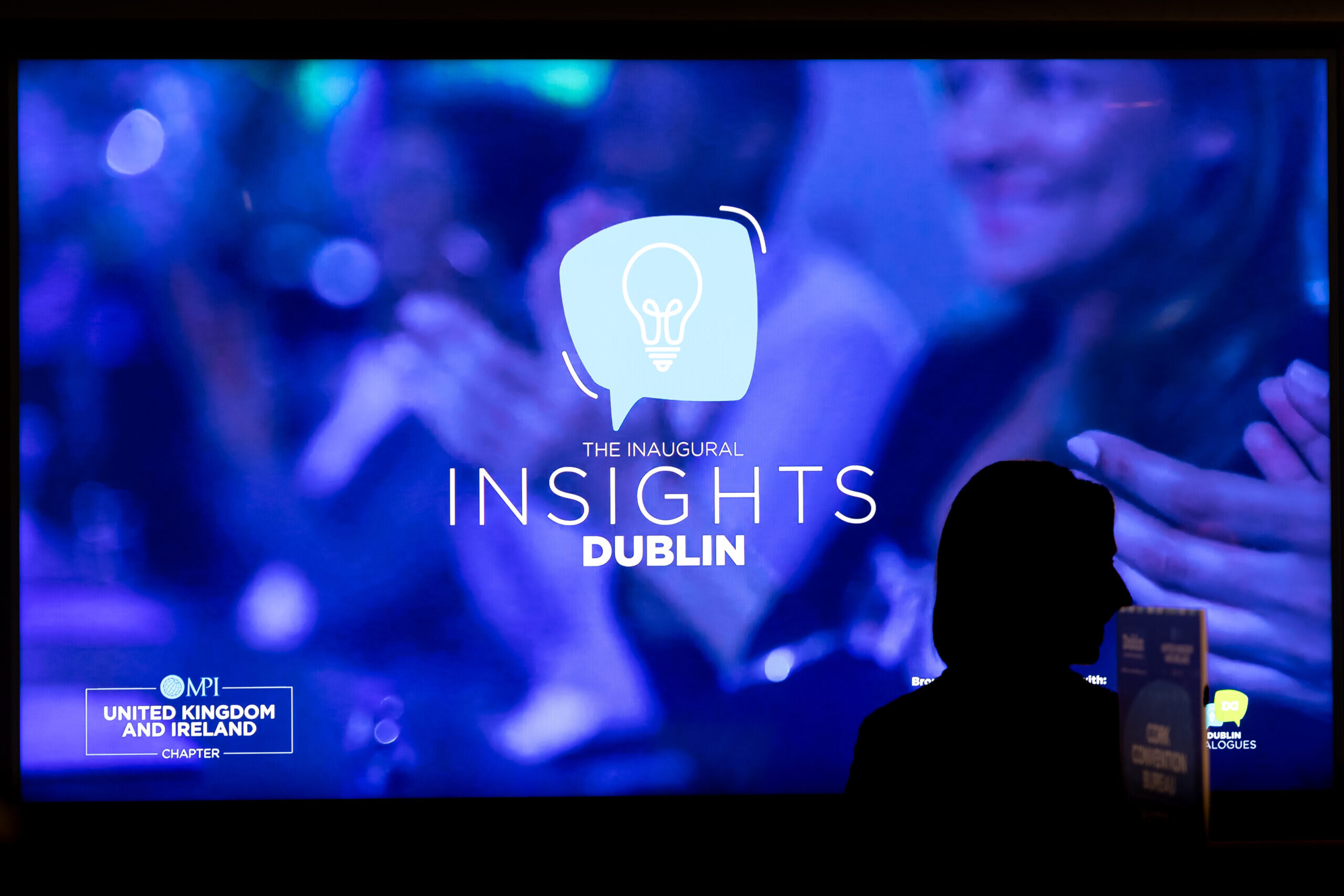 Value Delivered
Premium Brand & Event Design Services
AVCOM' Design Studio took a holistic approach to fulfil all of MPI's visual needs to resonate with their audience. The key differentiator of this project was AVCOM's privilege in designing all of the required branding for the event. Deeply understanding the client's vision allowed our design team to develop an authentic tone of voice through the event brand and sub-brand elements. This branding included a logo design specific for the event, colour profiling and more. We also developed their event brand architecture so MPI's offsite UK team had a structure in place to work off for their marketing and branding collateral.
Our event design incorporated lighting, psychological triggers, technology and other visuals, creating a fully immersive space that relied solely on clever technology and beautiful visuals to deliver an on-budget authentic immersive event experience for MPI and it's attendees.
Digital Campaigns & Marketing Asset Delivery
Along with the design and full-scale production, AVCOM also managed the digital campaigns for the MPI Insights event. This included the creation of E-invites for international buyers and targeted email marketing campaigns. We also had full control of MPI UK & Ireland's social media channels, which required the creation of new banners, cover images, graphics etc. as well as numerous carousel posts to promote the event and keynote speakers across LinkedIn, Facebook, and Instagram. Our design team also developed non digital assets, with the creation of a host of physical artifacts with scannable QR codes driving people to the event page of the website.
Sustainable Event Touchpoints
Numerous touchpoints were established to facilitate attendee interactions with MPI, encompassing both online and offline avenues. AVCOM were involved in creating efficiency and quality in each of these touchpoints, with sustainability being front of mind. For example, recycled lanyards were used on the day and the aforementioned QR Code activated brochures ensuring brand compliance for the client, the event and their sponsors.
How AVCOM helped MPI to Experience More
The 2023 Insights Dublin event was a truly unique and immersive experience that ignited imaginations and left an unforgettable impression on attendees.
Collaboration and client understanding was a key factor to this events success, and we worked closely with MPI UK & Ireland and all other event partners to truly understand the client's vision from the outset.
This enabled us to create a fully immersive space that relied solely on psychological triggers, innovative technology & beautiful visuals to deliver an on-budget authentic immersive event experience.
Having MPI UK & Ireland trust in our vision for the design of their event was essential. From screen presentations, event branding, animations, lighting design and all other event elements, it was a true pleasure to bring this unique event to life.