ITIC
Virtual & In-Person Event Production Partner
Virtual & In-person Event Production Partner for ITIC
AVCOM have been working with ITIC directly, and Advantage Group,  for the last number of years to bring their annual events to life, from our first event . The relationship has brought us together for 3 separate high profile events, covering both in person and virtual.
2021 saw the first time ITIC brought their National Conference to a virtual landscape. This was produced in AVCOM's purpose built Broadcast studio in UCD's O'Reilly Hall, with virtual attendees exceeding 5,000(the most successful event in the history of ITIC). Below we have highlighted key experiences, in person and virtual of significant scale, that AVCOM produced for ITIC in the last number of years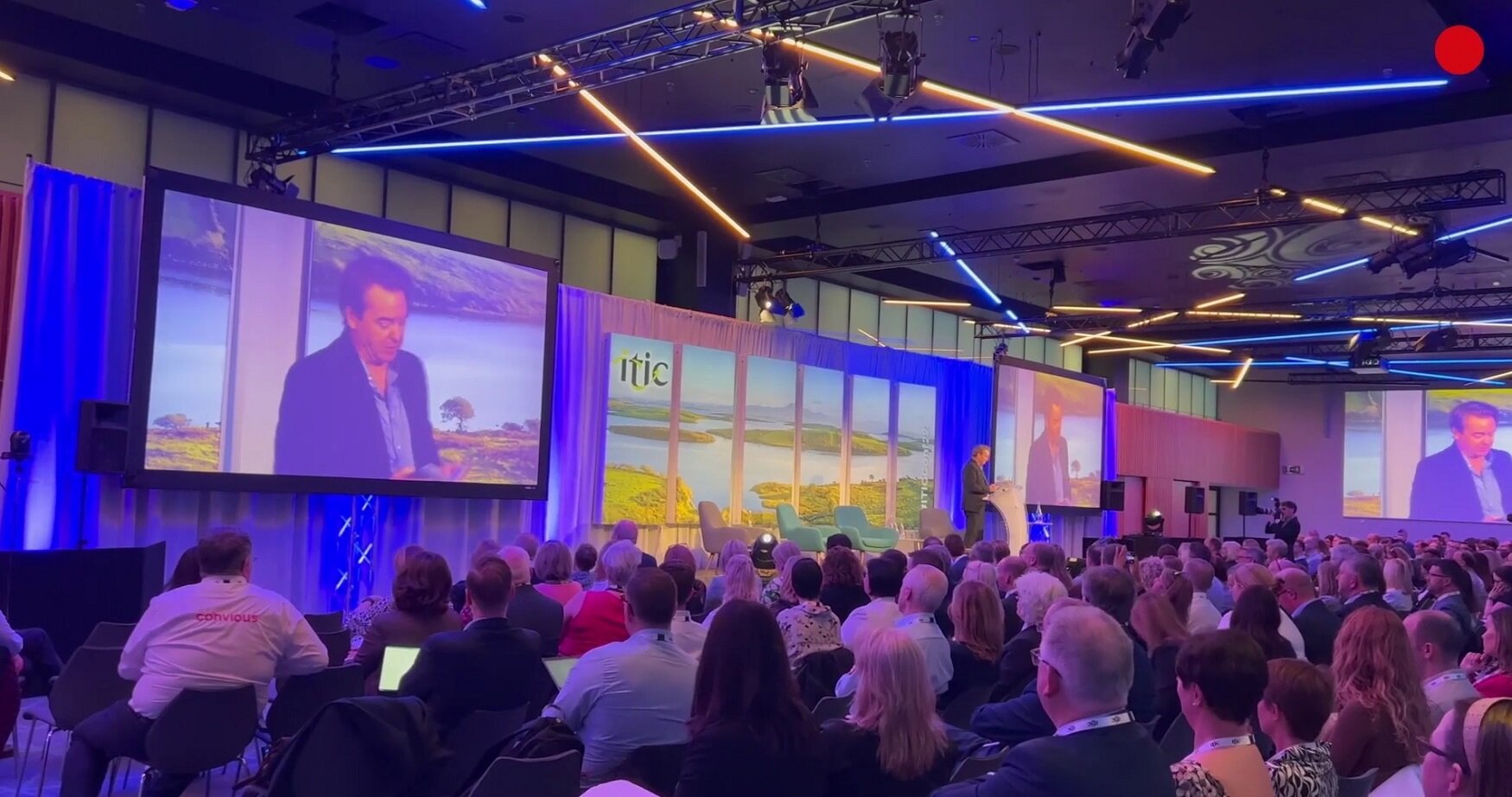 Value Delivered
ITIC In Person 2022
2022 saw the conference return to in person in the beautiful surroundings of Croke Park. This event took place in the Hogan Suite and there were 300 delegates who all attended in person . We built a 16-metre stage using a mix of in-room screens, laser projection, LED, and custom built backdrops to accommodate an up to six-person panel discussion. The speakers and panelists included the following: Minister Catherine Martin, David McWilliams, Professor Luke O'Neill, Colin Hunt, CEO, AIB, Lynne Embleton, CEO, Aer Lingus and Willie Walsh, Director General IATA among others. For more information click the following link.
ITIC Virtual 2021
This was a 2.5-hour conference facilitated by remote and in-studio presenters and which catered for 5,000 virtual attendees. There were over 20 panel discussions with contributions from industry experts. We managed the end-to-end technical production of this event. We used a 5mm curved LED 8.5m(w) x 2.5 m display that includes 1.5m(w) x 2.5m (h) LED portrait area for displaying remote participants. 4.5m (w) x 2.5m (h) LED area for displaying virtual attendees. 3 x LED pillars which are perfect for additional branding opportunities. Total crew 10. For more information click the following link.
How AVCOM helped ITIC Experience More
AVCOM's successful partnership with ITIC expanded from a 2.5 hour virtual conference in 2021, to an in person event in Croke Park in 2022 with 300 delegates. AVCOM helped ITIC and Advantage Group experience more by bringing this conference online for the first time in ITIC's history. We did so in a highly technical but efficient manor for the client, offering them peace of mind that the event would run smooth on the day. The level of trust ITIC and Advantage Group had in AVCOM after the virtual event in 2021 was showcased by their decision to re-partner with our expertise for the in person version the following year, and we look forward to delivering this event in 2023.
We look forward to continuing our partnership with ITIC into the future.